Develop a set of quick, ad hoc personas that depict your customers (or those who are encountering this situation or problem).
👥 1 to 6 participants | ⏰ about 1 hour
Objectives
Proto-personas are a variant of the typical persona, which is usually heavily researched. Your team starts with assumptions about who is using your product or service and what is motivating them to do so, and then does research to validate them.
You want to capture everyone's assumptions and encapsulate the organization's beliefs.
Proto-personas provide a starting point for evaluating ideas and early design hypotheses.
They help reinforce corporate awareness of the customer's point of view to ensure it's included in strategic planning.
Coming to a group consensus on the personas helps everyone focus on the customers and empathize with them.
Instructions
Persona Format
Sketch proto-personas on paper, using a hand-drawn quadrant.
Top left box: Persona's name and role, with a rough sketch of him/her
Top right box: Basic demographic information, with a focus on information that predicts a specific type of behavior
Bottom left box: User's needs and frustrations with the current product or situation, the specific pain points your product is trying to solve, and/or the opportunity you're trying to address
Bottom right box: Feature and solution ideas
Persona Creation Process
Start with a group brainstorm. Team members offer their opinions on who the project should be targeting and how that would affect each potential user's use of the product.
Once the brainstorming is complete, narrow down the ideas to an initial set of three or four personas you believe are most likely to be the target audience.
Try to differentiate the personas around needs and roles, rather than by demographic.
Persona Validation
Once your proto-personas are created and agreed upon, take them into the field to begin validating their accuracy. As you learn from your ongoing research, you'll quickly find out how accurate your initial persona guesses are. This will inform you on how to adjust your target audience and persona, which should be revamped and rewritten as needed.
Download Persona Worksheet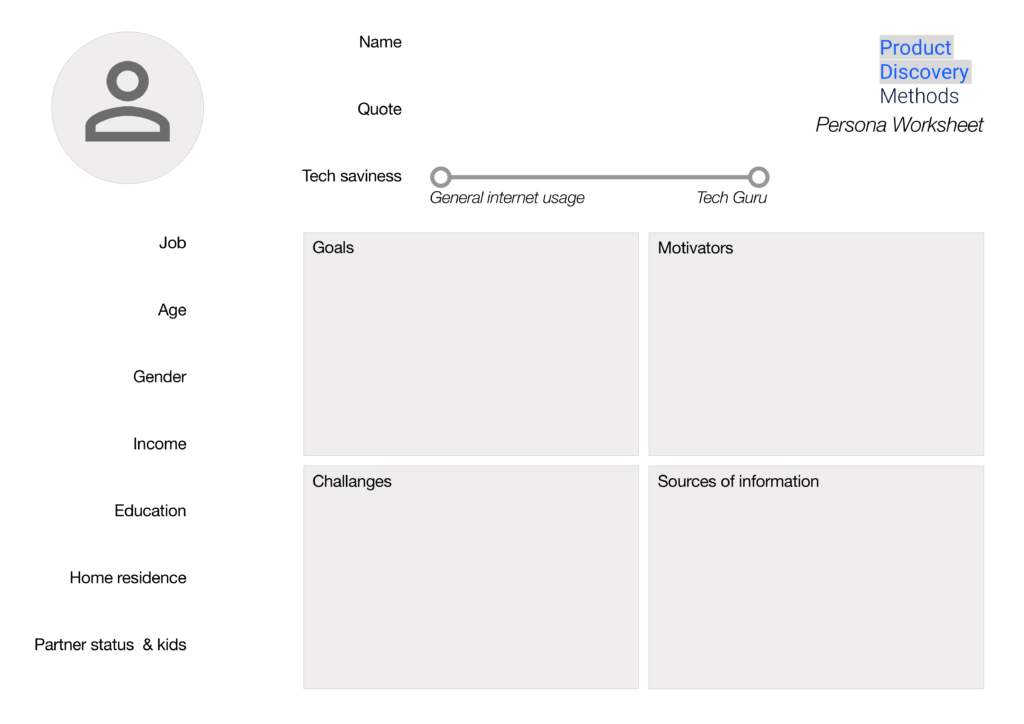 ---
Source:
http://www.jeffgothelf.com/blog/lean-ux-book/#sthash.7aXWU9Tr.PcpUM1Un.dpbs
http://uxmag.com/articles/using-proto-personas-for-executive-alignment
https://www.slideshare.net/almingwork/nyt-product-discovery-activity-guide